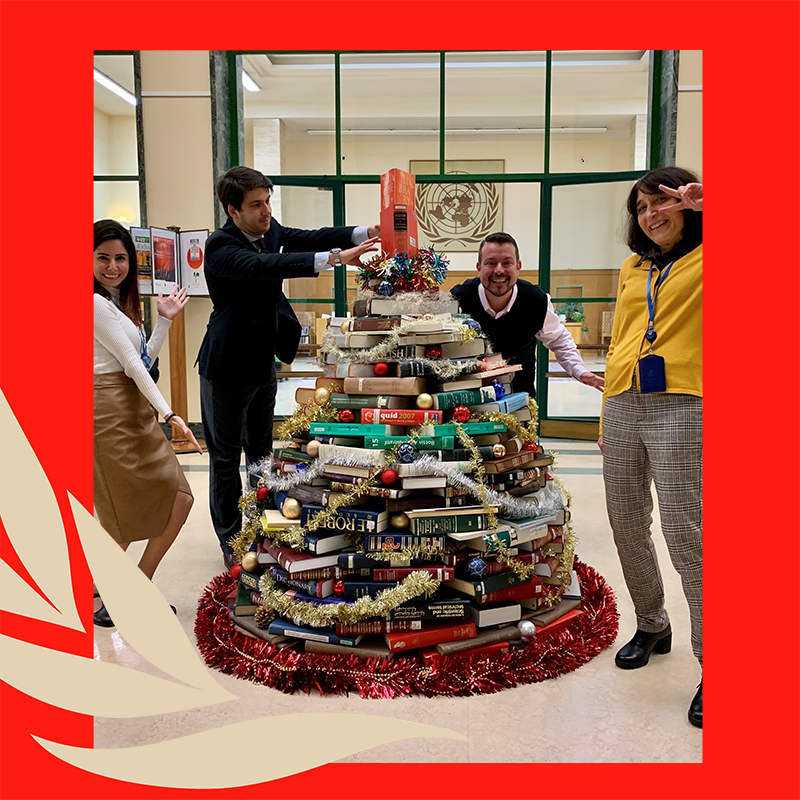 Welcome to this holiday special episode of The Next Page podcast! As 2019 draws to a close, we take you on a tour of the UN Library Geneva, which this year celebrates 100 years since its founding. How does the Library support multilateralism? You'll hear stories from four of our Library colleagues as they work to support research and understanding on multilateralism. Bonus: they also give us their tips for their favorite holiday reads! Find links to all of the resources they mention below. Enjoy, and happy holidays from the UN Library Geneva.
---
Bienvenu.e dans cet épisode spécial de The Next Page! Pour la fin de l'année 2019, nous avons fait le tour de la Bibliothèque des Nations Unies à Genève qui a fêté ses 100 ans cette année. Comment est-ce que la Bibliothèque supporte le multilatéralisme? Vous en saurez plus en écoutant quatre histoires de collègues racontant comment leur travail soutient la recherche sur le multilateralisme. Et en bonus, vous entendrez des suggestions de lecture pour les fêtes! Les liens vers les resources sont mentionnées ci-après. Bonne écoute et bonnes fêtes!
Chapter 1: Sebastien Vernay
Sébastien Vernay est assistant bibliothécaire dans la section des services. Il anime les visites de groupe à la bibliothèque, vous trouverez plus d'information sur la page web dédiée: https://bit.ly/2PJJbL3.
Vous pouvez consulter le catalogue sur Global Search, et les différents guides de recherche ici: https://libraryresources.unog.ch/global.
Sa suggestion de lecture pour les fêtes es "L'ONU pour les Nuls", de Yves Berthelot et Jean-Michel Jakobowicz: https://bit.ly/2SaZO3J.
Chapter 2: Mélanie Kamar
Mélanie Kamar is a Team Analyst for the LONTAD Project (the Total Digital Access to the League of Nations Archives Project). To learn more about this five-year project to digitize the League of Nations Archives (around 15 million pages of content!), visit the website: https://lontad-project.unog.ch/.
You can also follow the project's unofficial mascot @lontadinho on Twitter at https://twitter.com/lontadinho. 
Mélanie's holiday read is A Feminist Manifesto in 15 suggestions by Chimamanda Ngozi Adichie: https://bit.ly/2EA7x3k. 
Chapter 3: Cristina Giordano
Cristina Giordano est cheffe du groupe de la gestion des connaissances dans la section des services de la Bibliothèque. Elle a participé à la préparation et mise en place de l'exposition "Stronger Multilateralism Through Knwoledge and Archives" à l'occasion de l'anniversaire des 100 ans et visible au 3ème étage de l'Angle A/B du Palais des Nations.
Sa suggestion de lecture pour les fêtes est "Genève Émois" de Marie-José Astre-Démoulin: https://www.ed-des-sables.ch/publications.htm#
Chapter 4: Stefan Vukotic 
Stefan Vukotic is the Chief of the Archives Management Unit. To learn more about the Centenary of Multilateralism in Geneva, head here: https://multilateralism100.unog.ch/front.
Stefan's book recommendation is The League of Nations: Perspectives from the Present: https://unipress.dk/udgivelser/l/the-league-of-nations/, edited by Karen Gram-Skjoldager and Haakon Ikonomou. 
Content:
Speakers: Sebastien Vernay, Mélanie Kamar, Cristina Giardano and Stefan Vukotic.
Hosts & Sound Editors: Natalie Alexander & Camille Chambinaud.
Images: UN Library Geneva.
Recorded and produced at the UN Library Geneva.