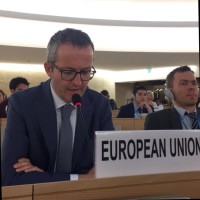 This episode delves into the world of negotiation. As we mark 100 years of multilateralism in Geneva and the UN turns 75, what is the role of negotiation in the multilateral context? For this conversation, we're joined by Jerome Bellion-Jourdan for an online recording. He's currently a Senior Fellow at the Global Governance Centre at the Graduate Institute in Geneva, and before that he served as the lead EU negotiator on a range of thematic issues such as Business and Human Rights as well as country situations in the UN Human Rights Council for almost 9 years. In this conversation, he shares insights into negotiating at the multilateral level, but also some opportunities he sees for change and evolution in the practice of negotiation to address global challenges.
He is currently working to explore the potential for an initiative which would provide the space to experiment new formats of negotiations with notably the use of technology to make them more inclusive, and to foster negotiations towards the greater good. He is supported by a team of individuals from international organisations, governments, business, civil society and others contributing pro bono to prepare for a first experiment of a "virtual and inclusive negotiation for the world after COVID-19". He also shares on some tips on how we can all bring more inclusive conversations and negotiations into our own fields and daily lives.
Here below are some resources from the conversation and more. 
Resources on the project for an international negotiation platform (Global Governance Centre at the Graduate Institute in Geneva)
Readings:
Multilateralism: the Anatomy of an Institution, by John G. Ruggie. International Organization, Vol. 46, No. 3 (Summer, 1992), pp. 561-598 https://scholar.harvard.edu/files/john-ruggie/files/multilateralism.pdf
Getting to Yes with Yourself (and other Worthy Opponents), by William Ury. New York: HarperCollins Publishers, 2015, 256p. https://www.williamury.com/books/getting-to-yes-with-yourself/
The UN Human Rights Council. A Practical Anatomy, by Eric Tistounet. Cheltenham: Edward Elgar Publishing, 2020, 384p. https://www.e-elgar.com/shop/gbp/the-un-human-rights-council-9781789907933.html
Content:
Speaker: Jerome Bellion-Jourdan.
Host & Editor/Producer: Natalie Alexander.
Images: UN Geneva Library & Archives, Jerome Bellion-Jourdan.
Recorded & produced at the UN Geneva Library & Archives.