Friday Oct 30, 2020
34: Dr. John Pace and the role of civil society in the fabric of human rights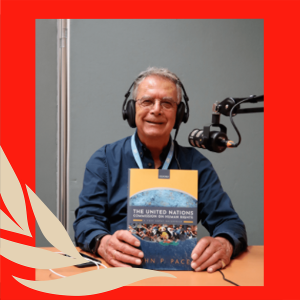 In episode 34, Dr. John Pace, former Secretary to the Commission on Human Rights and Coordinator of the Vienna World Conference on Human Rights joins The Next Page to share his knowledge in the field of human rights, while introducing his recently published book, The United Nations Commission on Human Rights, A Very Great Enterprise.  
With more than three decades of experience in humanitarian work, Dr. Pace takes us back in time, with a special focus on the council that began it all: The United Nations Commission on Human Rights. Starting from its inception and moving through its ongoing evolution, he takes us on a journey along the Commission's rich history and its role in the multilateral protection of human rights. 
He also emphasizes the role of civil society in the discussion and advancement of human rights and multilateral cooperation, and considers the critical questions: how does a topic as universal and intersectional as human rights translate into global cooperation? And why are universal human values important? In this conversation, Dr. Pace richly informs us on a subject that is integral and invaluable to us all.   
About Dr. John Pace 
To learn more about his new book: https://bit.ly/3mynCdP
The e-version may also be found on most online book stores.
In the course of a career spanning over fifty years in the field of human rights, John Pace has been involved in a wide range of experiences in human rights and related institutional structures and procedures.  Since leaving regular UN service in 1999, he has held senior positions in the human rights/humanitarian field in Liberia, Iraq, Lebanon, Palestine and Nepal. In the same period, he has worked in various other countries such as Indonesia, Sudan, Cambodia and Vietnam.
He has been involved in the establishment and management of most departments that currently make up the Office of the High Commissioner for Human Rights, such as Special Procedures, Technical Cooperation, and External Relations and in later years, the formation, or re-structuring of teams and management units.  As a senior official, he played an important role in the design and restructuring of the Secretariat upon the creation of the Office of the High Commissioner for Human Rights (OHCHR).
He is currently Senior Visiting Fellow at the Faculty of Law, University of New South Wales, he also sits on the Board of the Diplomacy Training Programme. He is Adjunct at University of Sydney, School of Law.
Further Resources  
Content
Speakers: John Pace & Karen Lee
Host & Editor/Producer: Karen Lee
Images: John Pace / Karen Lee
Social media designs and transcript: Karen Lee 
Recorded & produced at the UN Geneva Library & Archives